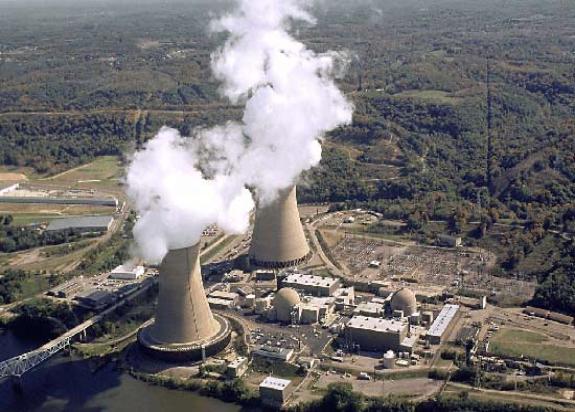 BEAVER VALLEY POWER STATION
SHIPPINGPORT, PA 15077
Formerly known as Shippingport Atomic Power Station, Beaver Valley Power Station is located in northwestern Beaver County, Pennsylvania, immediately on the Ohio River and 4.7 miles northeast of Columbiana County.
Beaver Valley Power Station is owned and operated by Akron, Ohio based Energy Harbor Corporation. Energy Harbor has one of the most reliable and efficient generation fleets in North America, with power plants strategically located across Ohio, Pennsylvania, and West Virginia, ensuring the communities in these areas have a dependable and affordable source of power. Energy Harbor is one of the largest producers of carbon free electricity generated from four nuclear power units. Our nuclear generation fleet provides critical base load that serves as the foundation for affordable and reliable electricity service for our homes and communities.
The Beaver Valley Power Station is a two unit power plant located in Shippingport, Pennsylvania near the Ohio border. Beaver Valley Power Station Unit #1 began producing electricity in 1976 and Unit #2 in 1987. Together the units can generate enough electricity (1800 MW) to power nearly 1.5 million homes
The first commercial generating station in the United States to use nuclear energy was the Shippingport Atomic Power Station of the Department of Energy and the Duquesne Light Company. In a dramatic high-tech display, ground was broken in 1954 during dedication ceremonies by President Dwight D. Eisenhower, who also opened it on May 26,1958, as part of his "Atoms for Peace" program. The first power at Shippingport was produced on December 18, 1957, and was fed into the grid for the Pittsburgh area. Owned by the Department of Energy, the reactor plant was shut down on October 1, 1982 and decommissioned in December 1989.
The Emergency Preparedness (EP) program for the Beaver Valley Power Plant in Pennsylvania, includes onsite emergency response readiness and coordination with offsite state and local emergency response organizations. The 10-mile emergency planning zone (EPZ) for Beaver Valley includes three States, Pennsylvania, Ohio and West Virginia